The Borzoi Quarterly
Talks With
Dr. Richard Meen and
Dr. John Reeve-Newson
KISHNIGA
Campbellville, Ontario, Canada
This interview was conducted in July 1983 at Dick and John's home by Jocelyne Ivanovskis.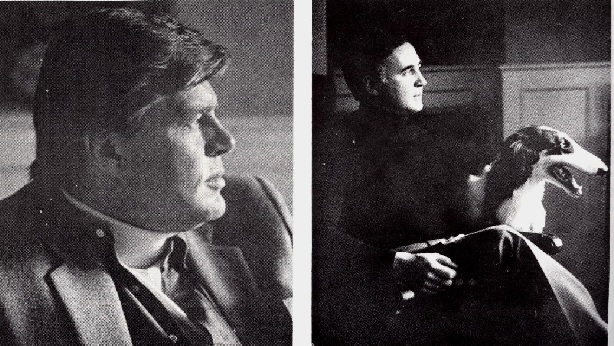 How long have you been in Borzoi?
Dick: I purchased my first Borzoi in 1969. That's what, 14 years. My first litter was born 12 years ago in June, or 1972.
Three years after you got your first Borzoi?
Dick: Yes, 11 years ago, ac­tually. The first Borzoi I got died two weeks after I got it. I then got a replacement puppy which was an outcross.
John: I took one look at that puppy and knew it was going to die. And you got hysterical!
Dick: Anyway, I got a replace­ment puppy. Then I bought a bitch from Audrey Benbow, Sirhan's Czarina. That's how I got into it.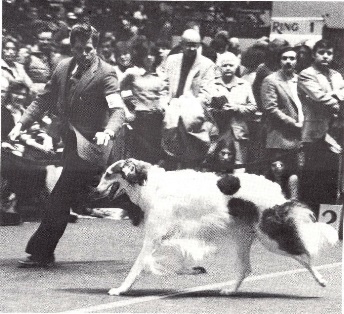 John: I thought it was very good, actually, that I predicted that the puppy was going to die. As a matter of fact, I think I vaguely recall writing the letter for him to get a replacement.
Dick: The first Borzoi that I showed was one I got from John. I finished it. Then in the meantime, John got interested in Old English Sheepdogs, and we decided to have a kennel. We bought this one, and the first weekend that we were here, the Borzoi got out early in the morning; Vanya and Czarina. Someone shot them, and that was the end of our first two Borzoi. I was crushed. I had to make a decision as to whether I was going to stay in the country or go back to the city.
We leased Sonya's mother and bred her to Sirhan Podar of Sunbarr. At that point in time, he was owned by Mr. Leslie Rogers.
John: By then, we had done some research, and we decided to lease the best bitch we could find. We looked at what was behind her, and at what was winning here and in the States.
Dick: We shipped her up and it was a big production. We got her bred, and she produced our founda­tion litter, the A litter.
John: And what is now my business! (laughter) I remember very well whelping those puppies, that bitch was nothing if she was not a Russian Grand Dowager. There was NO WAY she was going to produce those puppies on her own. Every one was sort of hand delivered. And of course, we were novices, too.
Do you have any idea how many litters you've produced?
Dick: 37.
John: 36.
Dick: Good enough!
John: Well, no, I consider that for the first 3 to 5 years you're in dogs, you're a novice, and then you graduate to the sophomore stage of the dog world. It's the only sport I know of where amateurs and profes­sionals compete against one another. I consider myself a novice ALMOST ready to graduate to a sophomore. It's like anything you take seriously –the more you get into it, the more you learn, and the more you learn, the more you realize you don't know anything. There have been some people who have been very helpful to us; you know, there at the first when we were deciding what to do and what to go for. Like Patsy Craige; Pat, actually, although I call her Patsy. She's in Elkhounds, but she gave us some really good advice when we started breeding. We met her, and became friends. I admire her breeding program; and she's so successful.
Tell me about your A litter.
John: Well, I hate to take credit for that! The first purebred dog that I owned was an Afghan. I went to a show to pick it up in 1964. I passed a pickup truck, and out of that truck hung a Borzoi; the first one I'd ever seen in my life. That dog happened to be a Sirhan dog.
There was a breeder in Ottawa, and she had Borzoi that we liked. She wanted a puppy from our A litter, and she wanted to do a trade. She had imported some dogs from Belgium.
Dick: Several years later when we had our A litter and were dis­cussing trading with Pauline, they had a litter that happened to be a Belgian import bitch. We went there and looked at this litter, and as usual, John looked at them one way and I looked at them another. The final decision was that we went with the bitch that John picked. John had a different eye in terms of anatomy and structure than I. In that way, we got Ruby, out of the Belgian bitch. She gave us a dif­ferent kind of quality than we were getting in our breeding.
John: Being a veterinarian, I see dogs all the time; and I have a very poor tolerance for temperament problems. That is one of the things, when we started breeding Borzoi, that we have been very definite on; that we've done a lot of culling for.
In some ways, I do think we've im­proved on the temperament of the breed. Ruby had a wonderful, wonderful temperament. I just can't deal very well with hysterical, neurotic dogs; I see them all the time at the office. But Ruby had a wonderful temperament, and I think it has really stamped her get.
Dick: The bitch that I liked was a little more stylish, a little more extreme. John was able to see what WE needed, as breeders.
John: Which is different than what you need to show.
Dick: Yes, I agree with that, and that's why I went along with Ruby. She was gorgeous. She was born in 1973.
How would you describe your short-term as well as your long-range goals?
Dick: My long-range, short-term goals? (laughter) When I first started to show Borzoi, Sirhan Poraschai was being shown, and he was a fabulous dog. And I was never going to beat him with the dog that I had, never should have. But every now and then, he wouldn't show up, and I would win the Breed, even won a Group. My aim as a breeder was to breed a quality dog that I thought could truly represent the breed in the show ring. I don't know what John thinks, but probably about the same…
John: Yes.
Dick: I don't think it's ever gone beyond that.
John: Well, it's also to breed a Borzoi that's such a beautiful dog – the breed, to my way of thinking, has never done a lot of winning in Group, across the boards. I want to breed a Borzoi that could remedy that. One problem Borzoi had, they were beautiful to look at, tons of coat, anatomically perfect and looked wonderful, but no … snap. It's hard to define that. No style, no flash.
Dick: I really disagree with that. I think that, in the past, the Borzoi has done a lot of winning. We happened to come along when they were not that popular; the breed was going through a funk. For example, Canadian Borzoi were win­ning the Breed at Westminster in the 1940's. The original Romanoff kennel was a Canadian kennel, not American. When we got into dogs, it was the high style dog that was doing a lot of winning, and that may have influenced, not necessarily for good or bad. I'm a sucker for being told that I can't do something, and then doing it. When I first got into showing, I went about a year without winning a thing at a dog show; NOTHING, not one thing, for a year…
I find that hard to believe!
Dick: It's true.
John: At Dick's first dog show it was hard to tell whose head was lower, his or the dog's! They both went around the ring with their heads down.
Dick: The first two years I showed, if I ever won a blue ribbon, it was because no other dog showed! That is the truth. Then I was told by a professional handler, Shirley DuBois (a Boxer breeder who bred the top winning dog in the area), that if I ever wanted to win, I'd better change breeds; because I was never going to do anything with a Borzoi! That was enough to get me started, because I didn't believe that. I believe in the Borzoi, and I believe that it is one of the most elegant dogs. They have a lot of quality. I figured that I was doing something wrong. And I knew that the dog I had was not the greatest dog that ever was, but I knew I should be doing more. So I went to a Sportsman's Show which, in Canada, is a seven day show. I didn't enter the dog. I went every morning at 7:30, and I stayed until midnight. I watched and I caught on to what a dog show is all about. A dog show is all about good dogs, properly groomed; and we have attempted to follow that, and to present good dogs. That's one of the reasons I feel we have been successful.
What did you watch?
Dick: I watched everybody, every ring. I didn't know very many people, but I just wandered around. Surprisingly enough, I'm not very so­ciable, so I mostly just stood around and watched. I learn by seeing, not by hearing. I watched the dogs who were winning consistently, and tried to figure out why they were winning. I would watch the handlers, and wonder what they did before 8:00 in the morning. All of a sudden, I realized that people don't show up two minutes before a dog show, and just wander into a ring. I learned about conditioning, and I continue to learn. To this day, every show that I go to, I do not leave until the end. I intend to get to every show at least an hour before judging – not of my breed, but before the start of any judging; then I usually stay until the very end, whether I get beat or not.
All the years that we cam­paigned Moustache, John would com­plain because it would still be dark, and I would be traipsing off to the show. We'd get there before anybody else; or we'd go to a city with a really good restaurant he wanted to go to, and I'd say, "We can't, we're going to the show!" We never saw the city in daylight at all! (laughter)
John: My joke was that Dick always had to get there early enough to clean the arena, and stay late enough to clean it again! Anyway, once I decided I was going to show this dog in the States, so I loaded up and took off for the weekend. I was going to stay with a friend; I was to be at the show at eleven to do my thing. My friend and I woke up in the morning, and we had coffee, and chatted, and had a wonderful time. We arrived at the dog show an hour after the Breed judging! (laughter)
Dick: The bad part was, he'd taken two days off from work to be there, drove down leisurely so that he and the dog would be rested, and then he showed up too late! All he said when he got back and walked through the door was, "I apologize."
John: I learned a lot! I don't show very often; it's just not my thing at all. I deal with the public every day with a great deal of con­fidence, but there is just something about the show ring that really bothers me. I had some success with Isis, but it was because I liked her so much. I don't know. But when you don't do it well, why do it? Dick does it very well.
Going back to the A litter for a minute, how many puppies were in it?
Dick: Thirteen, all black and white. The mother was black and white. Anna was a Group-winning bitch; she was the bitch out of the litter that did the most winning. She was also the first bitch out of the litter to finish in the U.S. I have a picture of her, and the first dog that we finished. Anna was never bred. She died of torsion when she was about two and 1/2 years old.
John: We were going to work that day, and we were driving out. She was running around the paddock; we thought how gorgeous she looked. We were talking on the way into work about whom we should breed her to, and this and that, because she'd just finished in Canada. The person who was working at the farm called up at the office, or at home actually, and said she'd died of torsion. I guess we were sort of novices about how good she was. She had a lot of style; a lot of things that we still like. Anyway, of the thirteen pups in that litter, I believe we finished 9 in Canada.
Dick: The first bitch that we finished in that litter was called Amneris. She had a litter sister called Antonia. Those two produced very well for us. Willa is the mother of Am./Can. Ch. Kishniga's Isis, and Canada's Number 1 Borzoi, Kishniga's Principessa Dolly P. She produced very well for us.
She and Isis were sisters?
Dick: Half sisters.
John: Genetically, they're sisters.
Dick: I showed Amneris and An­tonia once as a brace, and they went Best in Show. They were puppies, and I was a puppy…!
Why do you say that?
Dick: Well, they went in every direction, and so did I. I didn't know what I was doing!
John: One of that litter went to California. She didn't go until she was two. She's produced quite well, and her great grandchildren are still winning. I think Arti is the only one who is still alive.
Dick: Our youngest litter is just 8 weeks old; they're Moustache children, so we're still going back to the D litter. There are a lot that we can go to.
The D litter, was that your second one?
Dick: No, it was after C, C was after B.
Oh, A,B,C! You went with the alphabet.
Dick: Yes, and we've started over again. So in our files, it's A2, B2, etc.
John: The C litter was good, too. It produced Calypso.
In the D litter, there was a beautiful bitch called Desi who finished in Canada and in the States very quickly. We never got a litter out of her. She had an ovarian tumor and died. But she was beauti­ful. Then there was another bitch, Dresden, who died from sarcoma when she was very young, about two. Moustache and Garth had a brother in D.C. that died, who was also very pretty.
Dick: We cull a lot.
For what reasons?
John: We cull extensively. We learned that from Pat Craige. Es­sentially, what she told me was that she felt that was why she'd been successful.
Dick: In one litter there was a bitch that did a lot of winning. I had a lot of Best Puppy wins with her. She was a nice bitch, and we did a lot of winning in the show ring. I finished her very easily, but she was not the quality that we felt we wanted for breeding. So we never bred her. That's been our style; we will only breed what measures up to our standards. Just because they win in the show ring has very little to do with it – not nothing, but very little.
Do you cull at birth?
Dick: I refuse to cull, at birth. Refuse.
John: Culling. Difficult, dif­ficult. We cull at 3 different ages. Essentially, that should be a joint decision. We cull at about 12 weeks for basic anatomical defects. Then we cull at 7 or 8 months for anatomical defects that have shown up since the first time. My theory, and I may be wrong, is that if I like a puppy at 6 to 8 weeks, I always have faith in that puppy. Eventually, what I saw in it will emerge. It may take some time, but if it's there and is properly looked after, it even­tually will emerge. Then we cull again at one and 1/2 to 2 years of age, usually for size, bone and presence. So there are three culling stages.
Dick: But I won't cull at birth. There is no reason that we have seen to do so. I know some people cull at birth because of color, or mark­ings, when there is no other fault in the puppy. But I feel there is no way to tell a mediocre or poor puppy from a great one until they are at least 6 weeks of age. Unless it's a birth defect, of course. Like a puppy with a cleft palate. I don't think we've ever had one of those in our Borzoi. Maybe in the Sheep­dogs…
John: We are breeding fewer litters, and therefore, have less cull­ing to do. When you're novice in a breed, and as you learn, if you are really trying to improve the breed, I think you have to cull extensively. At first, we used to try to place them in pet homes, and things like that, but it's just too heartbreaking. People can't look after them; they're a big, running hound. You hear reports that people have found this one, or that one in the pound. It's not easy at all.
It's awful, it really is. But you really HAVE to retain your ob­jectivity, I think. Fortunately, al­though we look at things through dif­ferent eyes, we have come to a sort of agreement. There are discussions, and if the discussion goes one way, the dog or puppy is given the benefit of the doubt until the next time.
Dick: John has felt that he can tell, but if there is a question, we wait. The first 2 or 3 years that we bred, we kept everything.
John: Yes, it was wall-to-wall Borzoi. The food came in here by the truckload.
Dick: We had names for them all. They all had individual pens, in­dividual exercise areas. The whole barn was full of Borzoi.
Never again, I take it?
John: Never. But I don't regret doing it. We had over 40, and we just can't do that anymore.
Dick: I disagree with that, but I think we LEARNED a great deal by having all those dogs. I watched them. There was one dog that looked dysplastic. John would x-ray him and say, he's NOT. It went around and around, he was, he wasn't. Some days the dog would be fine, others he wasn't. Finally, when he was 2 and 1/2 years old, he was a very nice looking dog, but there was no way we could show him. Anyway, we culled him, and he had a displaced tendon. But you learn a lot by watching puppies grow.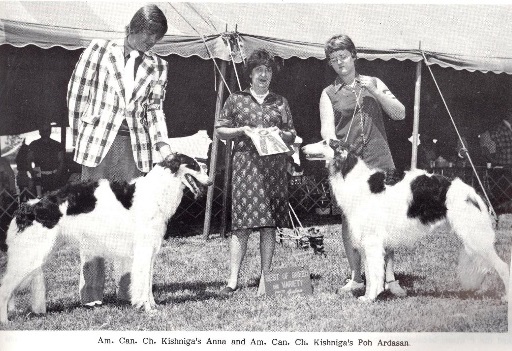 One of my great consternations in purebred dogs is the reluctance of the people involved to share the faults in their lines. Unfortunately, you have to learn each one for your­self. In this day and age, you can't keep enough dogs; and I think breeders have a responsibility to cull. We don't like it, but it is our respon­sibility. We've kept a lot of dogs in the past, but no more.
Do you place pet puppies, then?
Dick: No. Yes. That is, in order to buy a pet puppy from us, you have to arrive on the doorstep the day we are going to cull, be­cause if you arrive the day after, it's too late. When we say pet, inciden­tally, we mean a dog that comes in the house, that is loved, etc. What you mean is one that cannot be shown or bred. Well, if we sell a dog to a home where it is not going to be shown or bred, therefore as a "pet," it has to be spayed or neutered. We don't encourage that; we don't advertise pet puppies in the local newspapers and so forth. We're more interested in producing Borzoi that are a tribute to the breed, and to its preservation and its future.
Which was your best litter?
John: That's sort of hard to define. I guess the D litter would immediately spring to the fore. I liked the P litter, because of Dolly, who is one of my all-time favorites; also Peaches N Cream. Her litter-sister lives in Florida, and finished at a supported entry specialty there. The 0 litter, I think, was nice. But in terms of uniformity, probably back to the P litter.
Dick: The 0 litter had my favorite dog of all time, Oedipus Rex. He was a spectacular dog, but he died when he was about 18 months of age. Of course if you go by winning, the D litter won the most for us; in Canada, the U.S., and Mexico. In terms of quality in breeding, I think the V litter was our best. That was an inbred litter. Those dogs are now 3 years old; there was Prince Valiant…
John: There was also Vanishing Cream, whom I haven't shown yet. Then there is Vampire, a lovely bitch who just finished in Canada. That was an interesting breeding because we bred Moustache to his mother. Then we took Una and bred her back to Moustache. We had three litters that year, and we went over the puppies. There were, what – 26 puppies? A lot!
Dick: What we did was, we tattooed them all, and then put them all together. They were all born within a day or two of each other.
John: We had a system, and after they were tattooed,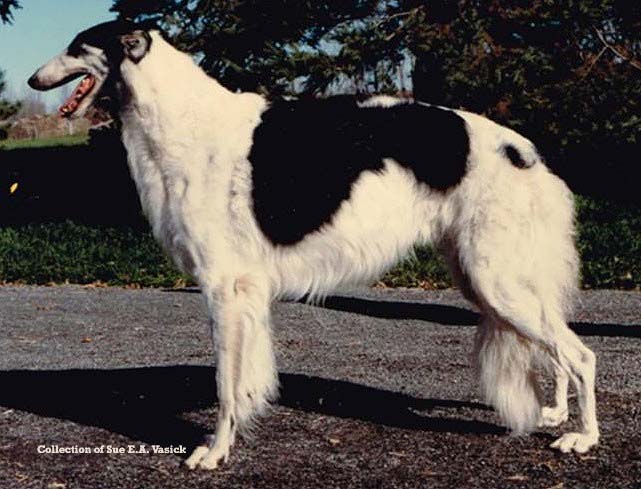 we let them all run together until they were 6 months of age. We spent one Sunday afternoon going over puppies, sorting the ones we did and didn't. We found two that we were sure were pet quality, and the rest we thought were show quality. In other words, we were really im­pressed with them. So then we put them back out, without checking which were which. Then we checked them again at 9 months. Did we check them together, or individually?
Dick: Individually. Then at 9 months, we agreed that we had to pick out the ones we wanted to keep and the ones that were pets. We decided on 5 puppies that we would keep, black and white, red and white, and pure white. We kept those five and put all the rest back out. We then checked the tattoos, and they were all brothers and sisters; and we had no idea.
John: We still have Vangarth, Vanishing Cream, Prince Valiant…
Dick: Another litter that I think was really nice for us was the second D litter. There were 4 puppies: Day Dreamer, Dancing in the Dark, Dom Perignon and Diablo. Day Dreamer is finished in Canada; she was shown when she was 14 months of age. Dancing in the Dark was in the Top Ten Borzoi in Canada, with Group placements. Dom Perignon is just beginning to be shown. We're going to repeat the breeding. They were sired by Rasputin.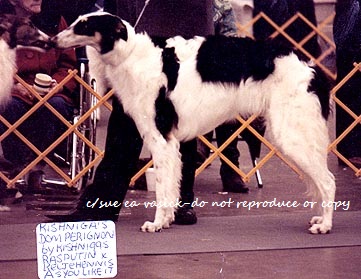 Then we have other litters, odd litters that are hard for us to assess. We decided we needed out­side blood, so we imported a dog who introduced English blood for us. But we haven't got exactly what we wanted, although some of the dogs that we have are very, very nice.
Continues in part II