The Early Days: Mr. & Mrs. Russell O. Everhart [overview written by Russ Everhart]
Mr. & Mrs. Russell O. Everhart of Ann Arbor, Michigan [U.S.A.] purchased their first Borzoi in the Fall of 1929 and soon after selected the name Arborzoi as a composite of Ann Arbor and Borzoi. Their first two purchases were of ranch-raised stock with magnificent coats, but lacking quality of head, depth of brisket and sound feet.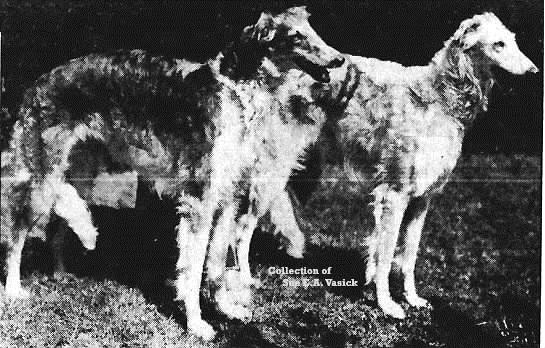 Visiting the 3-day Detroit dog show in March of the following year, Mr. Everhart was enticed by the singling out the tactics of Nega of Woronzova who, at one year of age, had defeated Janet Paterson's Nazimova, Idylia of Perchino, Happy Perchino and several other entries. Nega, with her come hither look, stole a place in his heart that was to remain a standard for the fine bitches which some breeders seemingly ignore in the selection of good brood stock.
Nega lost Best of Breed honors that day to Ch. Krassai of Kamenoff, who was owned by Leona Heinz Dengler, and who won the club award for Best Russian Wolfhound of 1928. Mrs. Dengler leased Krassai's mother and a litter sister to the Everharts, and assisted them in securing the services of Valley Farm studs owned by Mrs. Stuart Foote, Woronzova kennels, and the Ladoga kennels of Kenneth L. Douglas.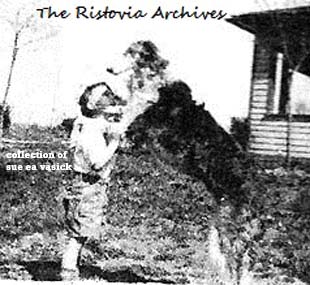 The ranch stock was fully replaced and, in spite of depression and wars, many fine Borzoi were produced,
including Ch. Trezor, a red sable with white male of outstanding quality. Mrs. Cluxton of Glenwild fame once said that "the Arborzoi dogs had the finest expression and disposition of any Borzoi in America". In 1941, it should be noted that Arborzoi, Glenwild and one other kennel removed all partitions from a bench for ten Borzoi, exhibiting all together three generations.
A favorite anecdote of Arborzoi is the story of a 6 month old female named Chara, who was being house broken in mid-wnter. After following the accepted procedure of feeding, then exercising to no avail, Charamade a mistake in the house. Immediately her nose was rubbed on the wet floor and she was firmly pushed out the door into a cold, cold world. Moments later, she came dancing back onto the porch The door was openedand there, still dancing, stood Chara with a mop handle in her mouth! End of lesson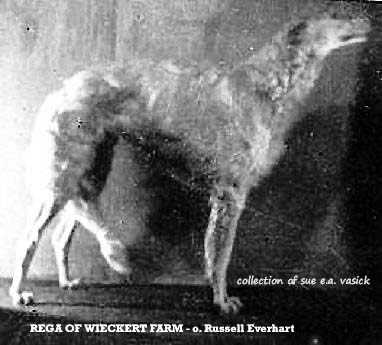 Rega of Wieckert Farms – largely of Valley Farm origins – was purchased to carry on the policy of using only top quality bitches.
A lapse of breeding activities during the second world war brought an end to producing the Valley Farm string, with no unmixed Valley Farm replacements available. Arborzoi then became host to some very excellent English stock, which became the base for continued breeding. Ch. Jaguar Jehan of Malora is their latest champion at this writing.
[Editor's note: This was all that Russ Everhart wrote about their dogs during this time. The Everharts were asked to re-name their kennel by the AKC, who disallowed a breed name in a prefix. In honor of their special boy, the Everharts chose to re-name their kennel Trezor, and continued to breed quality Borzoi under the Trezor name through 1970.]
Article written by Russ Everhart
Edited and photos provided by Sue E.A. Vasick