Historic research by Margaret Davis!
Revision of the early American Borzoi history!
The American system of partial registration leaves so much of the early history out of the studbooks, Here are chronological lists for 4 of the earliest foundation breeders in America and Canada (Terra Cotta). This information is collected from official AKC catalogues as well as studbooks and Gazette or newspaper articles to give the big picture. By comparing all four breeders, it was possible to amend or update litter information and other exchanges of dogs between them. A big jigsaw puzzle but some more pieces have been found.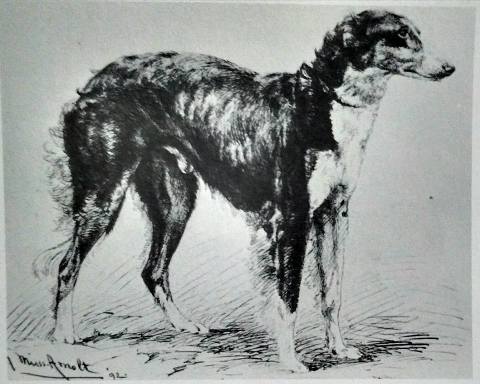 The well travelled Argos (Sokoloff) went from Russia to the Duchess of Newcastle in the UK in 1891. Was shown a few times before being sold to H W Huntington in the US in 1892 where he was renamed Argoss and was shown to American Champion and fame. In 1894 he was sold to John Kent (Terra Cotta) in Canada who showed him to Canadian Champion and a Best in Show win. In 1895 he was sold to H W Sharpless in the US again and shown at Westminster 1896 to win Best of Breed. Along the way Am & Can Ch Argoss (Imp Russia) sired litters for Huntington, Kent and Sharpless plus others. Although most of the lines from his many descendants died out by WW1, one of his Canadian daughters has descendants to the present day.