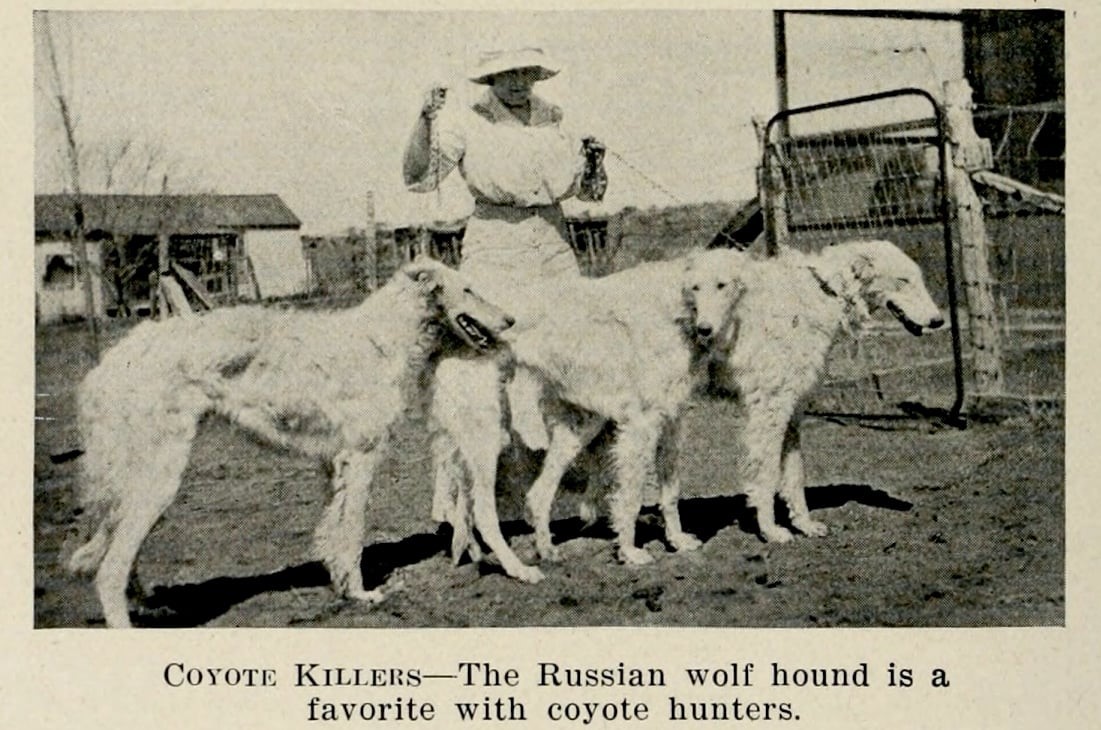 These three hunting borzois are believed to have been owned by C J Elliot from Colorado in America.
Information from Andrus Kozlow, Margaret Davis and Sue Vasick!
Orloff III bred by C F Hoeckel and owned by C J Elliott was from several generations of Hoeckel dogs going back to some of the Russian dogs imported by Paul Hacke about 30 years earlier. The sire Orloff II also had two UK imports in his pedigree. He was a grandson of Czar Nicholas (UK) by Ch Opromiot (Imp Russia) x Nagla II (Imp Russia) and great grandson of Endcliffe Duchess (UK) twice. She was by Lebith (Imp Russia) x Czarina Lubedka (Imp Russia). The dam of Orloff II was Hoeckel's Sudarka Lady who was line bred to Hacke's Odinor (Imp Russia) three times. Hacke's Viewga and Prospeski were also in her pedigree along with Ch Marksman, Ch Leekhoi and Raskida all imported from Russia. The mother of Orloff III was Golubka OVF a daughter of Ch Nenagladni Perchino (Imp Russia) x a daughter of Ch Bistri Perchino x Atamanka Woronzova both imp Russia. The Hoeckel dogs were shown regularly at Denver each year and some other local shows until an unfortunate committee of the AKC cancelled or downgraded most shows across the country as they considered only the east coast shows to be of consequence. They were also rude to many people who then stopped exhibiting. By the time a new committee took over and apologized to them it was too late. Consistent offers to register the various dogs bred in parts other than the east coast were generally ignored by the offended owners. Sadly this lost many of the dual purpose exhibition and hunting lines and they continued as unregistered hunters. Some of the hunters maintained their pedigrees and advertised stud dogs by name. It is p
Pedigree of Orloff III: PedigreePoint Online Database (borzoipedia.com)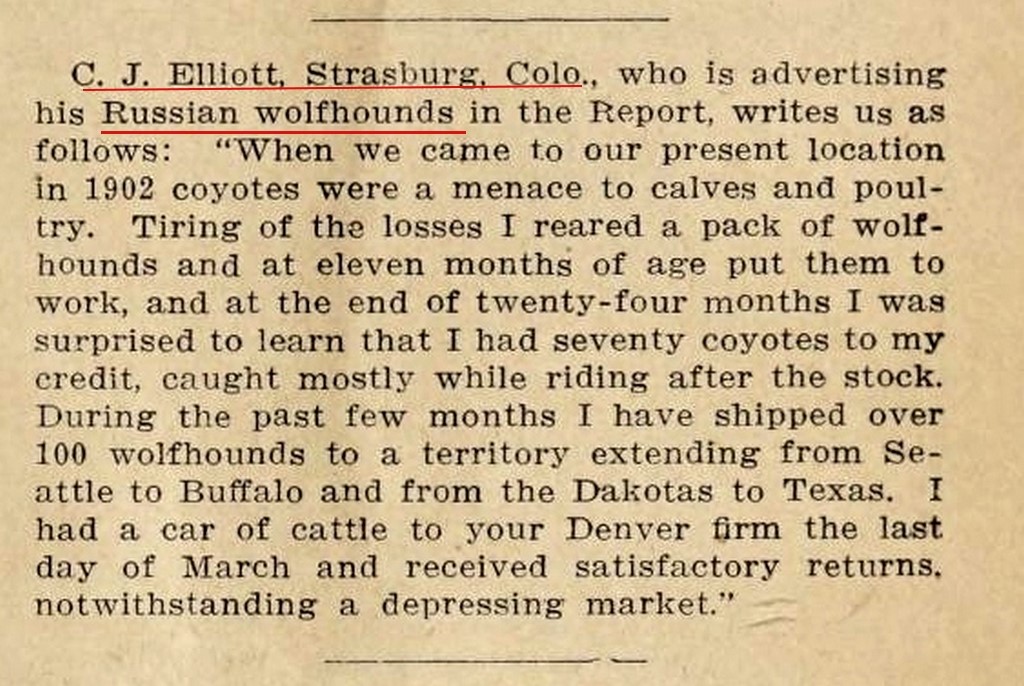 Also pictured is the Elliott-bred Bonaforte, owned by Leon Almirall of Sedalia, Colorado. Bonaforte was an irish marked dark red sable by Swinsbury Boy ex Peanut born in 1911. He had a reputation of being a powerful coyote hunter.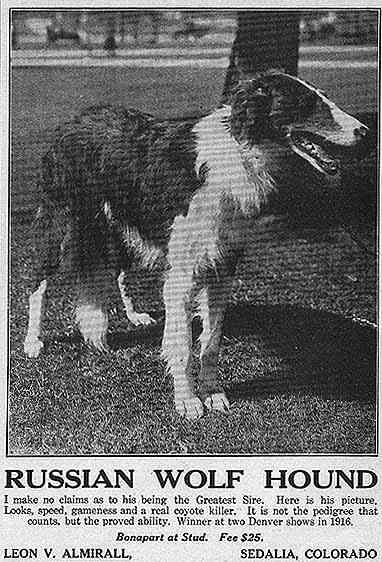 1901 Wyoming, Mr James Graham ranch near Split Rock.
.