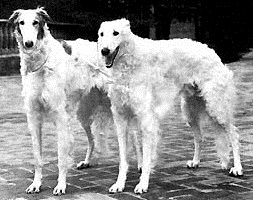 A splendid photograph of two grand Borzoi, American Ch. Sunday of Tam-Boer on the left and American Ch. Vigow of Romanoff III on the right. Sunday was a well-bodied white and red bitch bred by Leonard and Elizabeth Tamboer and owned by the Larsons. She was whelped December 6, 1956 and of Romanoff bloodlines, being sired by Vigow of Romanoff II ex Lady Gretchen of Tam-Boer. As a brood bitch, she produced 2 litters [1960, 1961] both sired by Haljean's Flame, and her offspring were behind Cordova and Conamor Borzoi, among others. Her most influential daughter was Hasu's Elena of Conamor, who was the dam of Conamor Count Tauskey [sire of the first Majenkir litter] and Conamor Christoff Cade [sire of Cathcade Curio].
Vigow III was bred by Louis Murr at Romanoff kennel and owned by Mr & Mrs E Leonard. He was a white dog born May 27, 1952, sired by Vigow of Romanoff II ex Baba Yaga of Romanoff, making him linebred on the great Vigow of Romanoff. As a stud, this dog became very important in the continuing development of the breed, as he was the sire of Chudak of Romanoff, along with Black Eyed Susie of Tam-Boer, Vigow of Tam-Boer and Lee-T of Tam-Boer, all who bred on.
These two Borzoi influenced a whole new trend for breeding in America, one that eventually encompassed Borzoi breeding world wide.